Ogden Peaks Classic
Soccer Tournament
June 26 - 29, 2019
Early Bird Special:
Teams who register by June 6th, will receive an Exclusive tournament t-shirt for all of their players!
Tournament
June 26 - 29, 2019
- 3 guaranteed games
- 15 Fields, 4 with lights
- 4 fields with synthetic turf
Divisions
Entry Deadline - June 12, 2019
- U9/U10: 2011/2010 - 7v7 $410
- U11/U12: 2009/2008 - 9v9 $520
- U13-U18: 2007 - 2001 - 11v11 $620
Schedule Release Date:
June 19, 2019
Questions?
Tournament Director: Laura Crosby
Registration & Scheduling Coordinator: Donell Heald
Need a Place To Stay?

The Courtyard Marriott is located in the heart of downtown Ogden! You'll be just ten minutes away from all nine of our tournament fields! Ogden has a wonderful downtown area with many things to do with your family and friends. Once your games are finished and your team has left it all on the field, you can check out the delicious restaurants within walking distance or take your family to all of the wonderful activities this city has to offer. Make the Ogden Peaks Classic a weekend to remember!
A few other suggestions: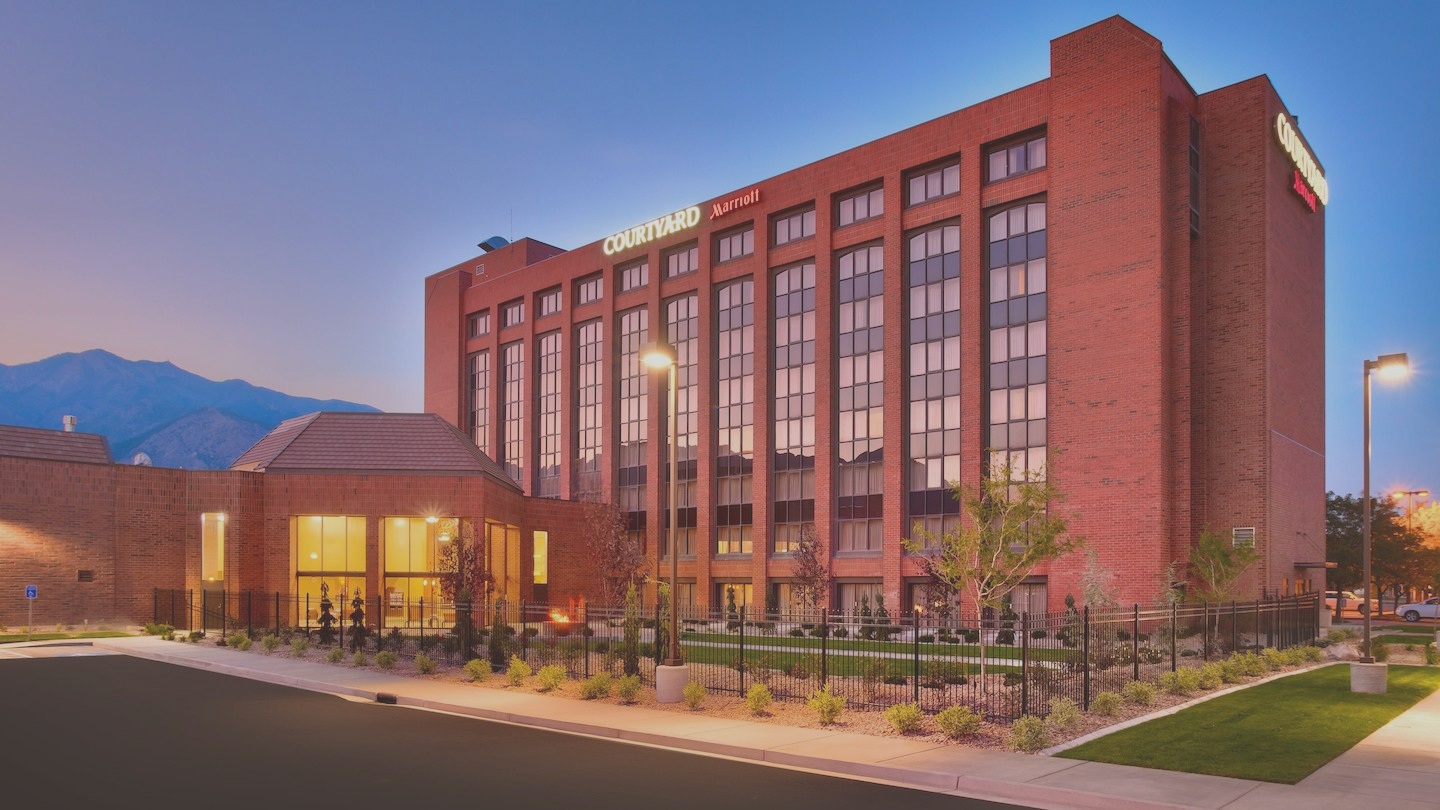 Activities
Ogden is the "Outdoor Capital of the World." Offering some of the greatest outdoor recreation the World has to offer. With rock climbing, mountain biking, river rafting, and much more all within 15 minutes from downtown Ogden you will never get bored. If these activities don't spark your interest, or maybe time doesn't permit you to be able to partake in them, here are a few fun things that you will be able to do!
Get Air
Get Air is a massive family oriented trampoline park! Filled with dodge ball courts, slacklines, foam pits, basketball hoops, and much more. Fun for all ages!
Snowbasin Ski resort
Just a 20-minute drive up the scenic Ogden Canyon you can go play a free round of disc golf, go mountain biking, eat a world class meal at the top of the mountain, or even see the Symphony under the Stars.
detours
No better way to cool off after a soccer game than to go have some fun in Ogden's Pineview Dam. With paddle boards, kayaks, canoes, and your favorite beach accessories available for rent we would be happy to have your team come play with us after your big game!
With the movie theatre five minutes from every field it's a great way to cool off and get yourself out of the sun before your next big game! Be sure to check out all of the newest and greatest films. Incredible's 2, Oceans 8, Solo: A Stars War Story, and Jurassic World.
Flow rider is an artificial wave that is located in downtown Ogden. Come test out your surfing and boogie boarding skills with all of your closest friends, teammates, and family members. There are deals on Thursday nights for Middle/High School kids with a valid student I.D. And on Friday night there are deals for everybody else. Come check it out!
A lot of times you don't have a whole lot of time in between games, but need to get out of that hot sun. Fat cats is a family fun area just five minutes from the fields that consist of bowling, arcade games, laser tag, bumper cars, and air conditioning need we say more? Can't wait to see you here.
The Ogden Raptors are a minor league baseball team in the Pioneer League based in Ogden. The club plays at Lindquist Field, whose view beyond the outfield fence was named the best in professional baseball by a staff writer for Grand Slam Enterprises, INC. Players get free tickets for Thursday & Friday's game. Each night, one lucky player will get to throw/kick the first pitch of the game.
This swimming pool is located conveniently at the Ben Lomond Field and is a great place to cool down, take on a water slide, and get in some summer swimming. Players can get in for only $1! General admission for families is $3 – children 3 and under are FREE.
Volunteers
Are you looking for opportunities to give back and get involved in the community? This year we are expecting many more players in attendance and we need YOUR help to make it happen! The Ogden Peaks Classic is a fun way to give back and to support your local teams. If you are interested in signing up, reach out to our volunteer coordinator below!
Volunteer coordinator: Donnell Heald